ASHEVILLE, NC – Do you have it in you to create the perfect crow-scaring creature? Use your creativity to make an original scarecrow creation to enter in the Scarecrow Festival contest. Competition is fierce, but fun – and you could win a prize!
The Scarecrow Festival at Lake Julian Park is on October 1 from 10 a.m. – 4 p.m. The highlight of the Festival is the judging of the handmade Scarecrows. It's free to enter! Remember to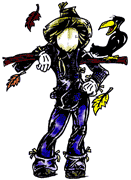 send your registration form in early or make sure to register at Lake Julian by 8:30 a.m. the day of the show.
Entrants are divided into two divisions:
individuals
families/groups
Prizes are:
$100 for 1st Place (in each division)
2nd & 3rd Place (in each division) prizes donated by Chick-fil-A & Fun Depot
$500 for the Best of Show entry
Winning scarecrows are chosen by popular vote. Scarecrows must remain up until 4 p.m. – winners are announced and prizes awarded at the end of the day. (You must be present to win.)
Get your lunch at the Special Olympics food booth, which will be selling hamburgers and hot dogs. 100% of the proceeds will go to support Buncombe County Special Olympics Athletes.
Purchase some crafts while you're there. Vendors – you can still register for booth space. See registration form attached below for complete details.
Admission is free! To reserve a spot for your scarecrow or a craft booth, call Grace Young at (828) 250-4265 or email her at grace.young@buncombecounty.org.
Tags: asheville, buncombe county, event, festival, Lake Julian, contest